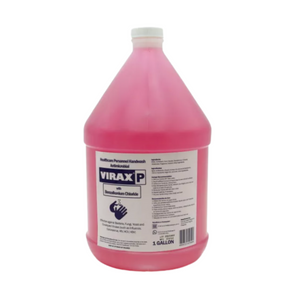 Virax P Hospital-Grade Antimicrobial Healthcare Personnel Handwash - 1 Gallon
Virax P Antimicrobial Healthcare Personnel Handwash is formulated with Benzalkonium Chloride.  

WHY WILL YOU LOVE VIRAX P ANTIMICROBIAL HANDWASH?
It is effective against viruses, bacteria, fungi, yeast and enveloped viruses (such as Influenza, Coronavirus, HIV, HCV, HBV)
It is non-drying
Safe for frequent use.
INGREDIENTS:
Water, Surfactant, Foam Booster, Benzalkonium Chloride, Moisturizer, Fragrance, Colorant, Other Ingredients
USAGE RECOMMENDATION:
1. Wet your hands with clean water.
2. Squirt sufficient amount of liquid soap to cover all hand surfaces.
3. Lather your hands by rubbing them.
4. Rub the backs of your hands, between your fingers, and under your nails for at least 20 seconds.
5. Rinse your hands well with clean water.
6. Repeat washing if necessary.
7. Dry your hands using a single-use towel