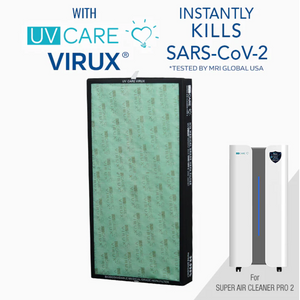 UV Care Super Air Cleaner Pro 2 Replacement Composite Filter
UV Care is a US brand that is US Food and Drug Administration (FDA) and US Environmental Protection Agency (EPA) Registered and is Rated A+ by the US Better Business Bureau (BBB) . UV Care is also a member of the International Ultraviolet Association (IUVA).
It might be time to change your filter.
When you replace your filters on time, you can extend the life of your air purifier and avoid costly repairs and damage. It will also provide continuous safe and fresh air for all family members. Filters should be replaced every 6 to 18 months in general, depending on air quality and environmental factors (or as soon as the filter indicator lights up).
All UV Care Medical Grade HEPA Filters are infused with the Patented UV Care ViruX Technology which eliminates 99.97% SARS-CoV-2 in less than a minute.
NOTE: Filter/s are not washable. For this unit, 2 composite filters need to be replaced

The composite filter is inclusive of the ff layers of filtration:

Antibacterial Prefilter

Medical-Grade H14 HEPA Filter
UV Care ViruX® Patented Antimicrobial Technology
Activated Carbon Filter
Photocatalyst Filter