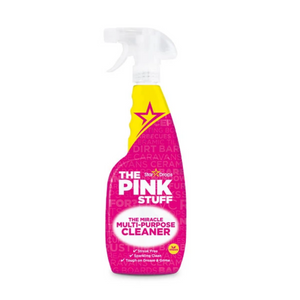 The Pink Stuff Multi Purpose Cleaner - 750ml
The perfect all-round cleaning product to keep your home sparkling.
WHY WILL YOU LOVE THE PINK STUFF MULTIPURPOSE CLEANER?
A versatile multi-purpose cleaner spray for hard surfaces
Tough on stains
Penetrates and removes grease and grime, leaving shiny clean results.
100% natural cleaning particles.
Leaves shiny clean results
Streak Free
Perfect for Kitchen and Bathroom!
DIRECTIONS FOR USE:
Turn the nozzle to the "ON" position.
Spray directly onto the surface.
Leave for a few seconds.
Wipe away with a soft damp cloth.
Buff with a clean dry cloth.
Return the nozzle to "OFF" position