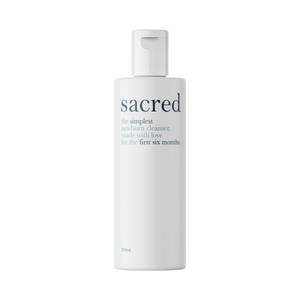 Sacred Six Months
 Simplest newborn cleanser, made with love for the first six months.
SACRED SIX MONTHS' formulation is 100% made from natural source.  And each ingredient is rated clean and safe by Environmental Working Group (EWG).
WHY WILL YOU LOVE SACRED SIX MONTHS?
The World's first newborn cleanser lovingly made for the first six months.

Specially formulated for the driest and most sensitive skin.

Made with all natural plant-derived ingredients.

Dermatologist Tested HypoallergenIc.

Has absolutely ZERO scents/fragrances, ZERO irritating 
acids, ZERO creepy chemicals such as parabens, preservatives, sulfates, and the likes
HOW TO USE:
Sacred cleanser can be used on hair/head, face and body. Apply generous amount on to wet skin. Massage gently and let it sit for about 2 minutes. Rinse well with water and finish up with a warm little hug!
Using Sacred on baby's delicate face: While bathing newborns, just dab a teeny tiny pea-size amount on their forehead and cheeks (seek Pediatrician's approval if it makes you more comfortable). Spread evenly with your gentle hands, and rinse properly using a wet cotton.
For little ones with mild rashes (can be done in the evening or when rashes suddenly strike) — apply Sacred with your clean/sanitized fingers or pour a speck of sacred on the surface of the wet cotton and dab only on areas where the rashes appear.
Wait for a few minutes, then wipe off and pat dry for babies under 4 months of age or those who seem to be fond of playing with their hands and face a lot. Sacred can also be used as leave-on, if you opt to try it in order to see a clearer result. Leave-on is safer for babies 4-6 months and beyond.
SACRED SIX MONTHS ALSO WORKS AS:
Top-to-toe wash

Shampoo and Conditioner (absolutely great for dry scalp!)

Facial Cleanser
Make-up remover
Feminine | Genital area wash
Stretch Mark prevention
Dehydrated, Hypersensitive, Problematic Skin.
ABOUT THE PRODUCT