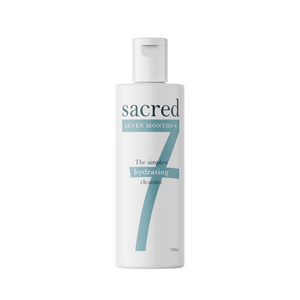 Sacred Seven Months +
Simplest hydrating cleanser lovingly made for seven months up to thirty six months
WHY WILL YOU LOVE SACRED SEVEN MONTHS +?
The simplest hydrating cleanser lovingly made for seven months and beyond.

Specially formulated to hydrate, clean, and detox the skin from damage and inflammation.

Very high in Antioxidant properties that soothe and relieve skin irritation.

Made with all natural plant-derived ingredients

Dermatologist Tested Hypoallergenic

Has absolutely ZERO fragrances, ZERO irritating acids, 
ZERO creepy chemicals such as parabens, preservatives, sulfates, and the likes
APPLICATIONS:
Sacred cleanser can be used on hair/head, face and body. Apply 

Generous amount on to wet skin. Massage gently and let it sit for about 2 minutes. Rinse well with water and finish up with a warm little hugs.
HOW TO USE:
Kids who are out-and-about in a playground or any garden will somehow need to physically ease off at the end of their play. And, if you're far from home, bringing Sacred 7+ with you makes the easing off easy as pie. Here's a tip: On a damp cloth, spread Sacred 7+ (amount poured will depend on your toddler's body size) so the cleanser will mix with the saturated cloth. Wipe thoroughly and gently your tot's body (you can include his/her head if you feel the need to do so). Using a new damp cloth or any small towel/wash cloth, rinse off the application or you can also leave on to dry.



SACRED 7+ FORMULATION ALSO WORKS AS:
Top-to-toe wash (absolutely great on pregnant' skin!)
Shampoo and Conditioner (best for dandruff and cradle cap!)
Facial Cleanser
Make-up remover
Feminine | Genital area wash
Stretch Mark prevention (deep hydration and soothing)
Dehydrated, Hypersensitive, Problematic Skin.
Irritated and itchy skin caused by eczema, atopic dermatitis, allergies, skin rashes
and the likes.