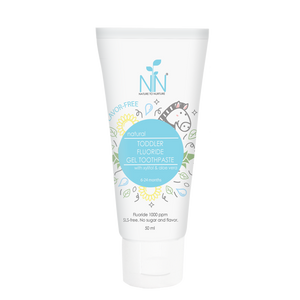 Nature to Nurture Toddler Fluoride Gel Toothpaste, 6 mos to 2 years (Flavor Free)
Plant and mineral cleanser for little teeth
Nature to Nurture's TODDLER FLUORIDE GEL TOOTHPASTE strengthens those first little teeth. It is designed to be flavor-free to discourage swalling, allowing it to stay longer on teeth where it does its magic. It doesn't foam and has mild abrasives to polish teeth.
Non-foaming. No sugar.
Vegan and cruelty-free.
WHY WILL YOU LOVE NATURE TO NURTURE TODDLER FLUORIDE GEL TOOTHPASTE?
6-24 months
Mild clear gel cleanser with 1000ppm fluoride
Xylitol, sunflower oil and aloe vera for gentle clean
Non-foaming
Dye-free
SLS free
Flavor free to discourage swallowing
USAGE:
Squeeze a smear amount of toothpaste on soft toddler toothbrush or gauze. Brush in small, gentle, circular motions on teeth and gums after each meal. Use with adult supervision.
INGREDIENTS:
Sorbitol, aqua, hydrated silica, xylitol, xanthan gum, sunflower oil (Helianthus annuus), Aloe vera L. extract, sodium fluoride, citric acid, potassium sorbate
FREE OF NASTY CHEMICALS  such as sodium lauryl/ laureth sulfate (SLS/SLES), phthalates, parabens, synthetic fragrances, dyes, cocamide DEA, triclosan, formaldehyde and caustics.