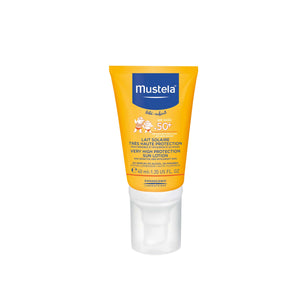 Mustela Very High Protection Sun Lotion (40ml)
MUSTELA'S VERY HIGH SUN PROTECTION SUN LOTION is a sun protection product for the face and body. For babies and children from birth on, including premature babies out of neonatal intensive care unit.

Sun Care, Sunblock sPF 50+, For All Skin Types (Normal, Sensitive, Atopic Skin), Fragrance Free
40ml tube

Natural active ingredient: Avodaco Perseose
86% ingredients from natural origins
WHY WILL YOU LOVE MUSTELA VERY HIGH PROTECTION SUN LOTION?
ATTRIBUTES:
• Very high protection SPF50+ UVB UVA
• Very water resistant
• Reinforces the skin barrier and preserves the cellular richness of babie's and children's skin from UV rays thanks to Avocado Perseose®

Guaranteed safety from birth on*:
• Sun sensitive and intolerant skin including atopic prone skin
• Tested under dermatological and pediatric control
• High tolerance
• Hypoallergenic - Formulated to minimize the risk of allergic reactions
• 0% fragrance, alcohol

* Including newborns out of the NICU, in compliance with the recommendations to the sun

PROVEN EFFICACY:
Very high protection SPF50+ UVB UVA.

Texture of product is pleasant and invisible on skin: 100%
Product leaves the skin soft: 100%
Product does not stain clothes: 95%


Dermatologically tested under pediatric supervision on 43 babies for 2 weeks (percentage satisfaction)


PLEASANT TO USE
• Creamy and can be spread easily over your baby's skin, leaving no sticky residue.
• It leaves the skin feeling soft, supple and moisturized.
• With its light and invisible texture on the skin, it is highly resistant to water, sweat and rubbing from towels and clothes.
• The pump delivers a small quantity of the product so that it can be precisely applied. Perfect for the delicate areas of a baby's or child's face.
• The airless tube ensures that the product is delivered in optimum hygiene conditions. It retracts as the product is used, so the quantity of remaining product can easily be seen.
• Ideal for when you are on the move, this pocket format can be slipped into any bag so you can take it wherever you go!


TIPS OF USE:
Children aged under 3 should not be exposed to direct sunlight.
When exposure is unavoidable, apply generously on dry skin at least every 2 hours and after each swim (ex: 5 doses for the face).
Keep babies and children out of direct sun.
To protect the skin from the sun's harmful rays, wear a hat, a T-shirt and sunglasses.
Avoid direct eye contact with the product.