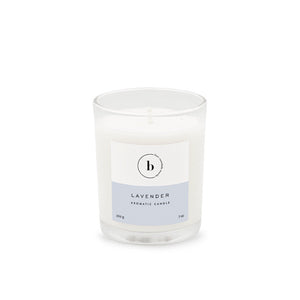 Bare Essentials Manila Soy Aromatic Candles - Glass -Lavender
BARE ESSENTIALS MANILA SOY CANDLES not only vibrantly fills up a room with a glow but also with amazing scents that you can choose from.
WHY WILL YOU LOVE BARE ESSENTIALS MANILA SOY AROMATIC CANDLES?
Aromatic 
Hand-poured
100% soy wax
200grams
LAVENDER. 

Your go-to-scent for sleep and relaxation. It is the perfect companion while you rest and read a good book or take long, soothing bubble baths after a tiring grind.