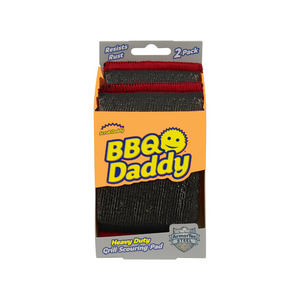 BBQ Daddy Scour Steel Heavy Duty Grill Scouring Pad
Skip harsh chemicals and soaking. Cut through grime with commercial grade Scour Daddy Steel! 
WHY WILL YOU LOVE BBQ DADDY SCOUR STEEL?
Multipurpose pads designed to attack greasy, hardened or charred messes.
ArmorTec Steel Mesh
Rugged machine stitched construction
Stainless steel fibers resist rust and shredding
Effective without chemicals
*Not for use delicate/coated surfaces.