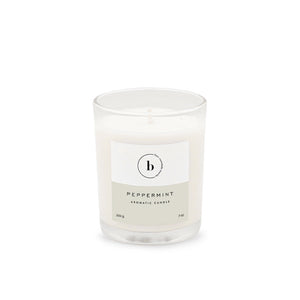 Bare Essentials Manila Soy Aromatic Candles - Glass - Peppermint
BARE ESSENTIALS MANILA SOY CANDLES not only vibrantly fills up a room with a glow but also with amazing scents that you can choose from.
WHY WILL YOU LOVE BARE ESSENTIALS MANILA SOY AROMATIC CANDLES?
Aromatic 
Hand-poured
100% soy wax
200grams

Vibrantly fill up a room with up to 3 hours of burning time

Perfect for bigger spaces – living room, bed room and dining room. 

PEPPERMINT. 

One of the most popular aromas that vitalizes, energizes and stimulates the mind and body. With its strong, fresh minty scent, it's perfect to calm you at the end of a stressful day.