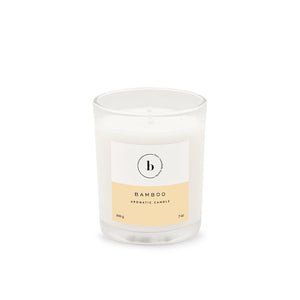 Bare Essentials Manila Soy Aromatic Candles - Glass - Bamboo
BARE ESSENTIALS MANILA SOY CANDLES not only vibrantly fills up a room with a glow but also with amazing scents that you can choose from.
WHY WILL YOU LOVE BARE ESSENTIALS MANILA SOY AROMATIC CANDLES?
Aromatic 
Hand-poured
100% soy wax
200grams
BAMBOO - 

A clean and wonderful scent that reminds you of nature - soft, green, and fresh. This refreshing and soothing scent is perfect during your early morning stroll or meditation practice.