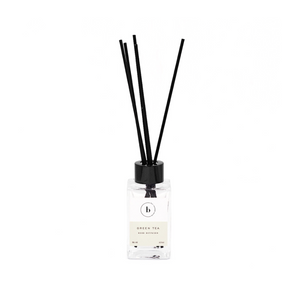 Bare Essentials Manila Reed Diffuser 80ml - Green Tea
Reed diffusers are now popular as a home fragrance because they are very easy to use.  Your top choice for small spaces – bathroom and small rooms.  Reeds are inserted into a glass bottle or glass jar of scented diffuser oil, the reeds soak up the scent and emit a pleasant aroma around your home.
WHY WILL YOU LOVE BARE ESSENTIALS REED DIFFUSER?
Oil-based, this product can instantly make a lasting impact.
Covers approximately 10sqm and comes with 5 reed sticks.
Flame-free and does not require any heat
Naturally disperse scent in the air
Practical solution for home fragrance
GREEN TEA - A classic Japanese aroma that refreshes and invigorates. Faintly sweet yet herby with a dash of spice, this scent will surely take you to a luscious scenery of nature.
DIRECTIONS FOR USE:
Insert reeds into the bottle and go!

Flip once a week or as needed to refresh the scent.