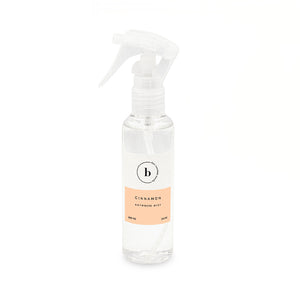 Bare Essentials Manila Anywhere Mist - 100ml - Cinnamon
Recreate your signature home scent anywhere you go with our travel-sized room and linen spray. Perfect for your travel getaways. Your home then, will not feel so far away.

WHY WILL YOU LOVE BARE ESSENTIALS ANYWHERE MIST?
Travel-sized Room and Linen Spray
100ml bottle sprayer
CINNAMON. Reminiscent of Christmas mornings, this is one of the coziest scents in our line. Its sweet-smelling spice can boost your brain power and can keep you warm and cozy on a rainy day.

USES: 
Spray on soft furnishings like bed linens, pillows, carpets, and sofa to freshen between washes.
Spray in the car.
Spray inside the closet to keep clothes fresh