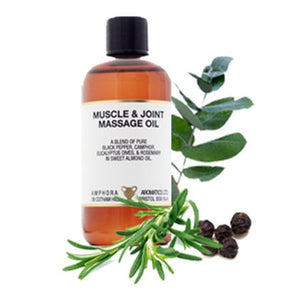 Amara Oils: Muscle and Joint Massage Oil (Relieves Arthritis and Muscle Pain) - 100ml
A carefully 
formulated blend of warming and deeply penetrating oils perfect for use after sport or a hard day in the garden or at work. Made with care and love by the experts here at Amphora.
WHY WILL YOU LOVE MUSCLE AND JOINT MASSAGE OIL?
Perfect for home use or by professional masseurs.
Easy to apply - simply massage onto the affected area.
Warming and Penetrating
INGREDIENTS:
Black Pepper Essential Oil

Camphor Essential Oil

Eucalyptus Essential Oil

Rosemary Essential Oil in Sweet Almond Oil.
100% SAFE AND NON-TOXIC INGREDIENTS
No Synthetic Oil
No Mineral Ol 

Exposure to mineral oils is strongly associated with an increased risk of nonmelanoma skin cancer
This type of oil is commonly used on cosmetic and skincare products

No Parabens

Can cause cancer and damage reproductive system
Commonly used as a preservative on products

No Synthetic Colors

Synthetic colors are suspected to be a human carcinogen, a skin irritant and are linked to ADHD in children.
SAFETY
Avoid during pregnancy. Avoid contact with the eyes - if eyes are affected rinse thoroughly with warm water. For external use only. Keep out of reach of children.