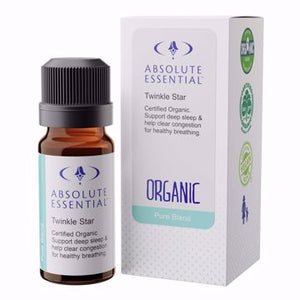 Amara Oils: Absolute Essentials Twinkle Star Baby and Child Sleep Aid - 10ml
This goodnight kiss comes wrapped in softly scented tranquillity that encourages sweet dreams and restful sleep. Our bedtime blend is carefully crafted to encourage the calmness and relaxation necessary for deep sleep; it promotes easy breathing to guard against broken sleep and may be useful for settling children after bad dreams. Suitable to add to the bath, for diffusion, for drops on pillow, or with massage cream for a loving caress that will help to ease fear, use as directed.
WHY WILL YOU LOVE TWINKLE STAR BABY AND CHILD SLEEP AID?
BENEFITS:
Sleep & Breathing Aid
Enhances children's sleep time by helping them relax and supporting healthy restorative breathing.
Relaxation
May be used by everyone in the family to enjoy a relaxing bath before bed.
Nightmares
A fearful, active mind can create dark, overwhelming dreams. Twinkle Star fosters calmness and relaxation, which encourages a gentle, restorative dream process. It also supports free breathing to help avoid the fearful dreaming and waking caused by stifled breath.
Dreaming
Twinkle Star fosters calmness and relaxation, which encourages a gentle, restorative dream process.
PRODUCT INFO:
Main Components:
Lavender True (organic) Lavandula angustifolia, malliette 
Traditional use: to calm nervous tension; to promote peaceful sleep.
Mandarin (organic) Citrus reticulata 
Traditional use: to inspire confidence; to calm the nervous system.
Chamomile Roman Anthemis nobilis 
Traditional use: A natural sedative, safe for infants.
Eucalyptus Blue Gum (organic) Eucalyptus globulus 
Traditional use: to encourage deep, easy breathing.
SAFETY:
These blends are professionally designed for use on infants and are very safe when applied as directed. If ingested, drink milk. Avoid contact with eyes. Keep out of reach of children.
Please Note: Therapeutic plant oils are used to support natural body process for optimum health and wellbeing. The information here is NOT meant as recommendation for cure of any medical condition or disease.